Bridgestone Tire Dealer
Order Bridgestone Tires Online
Tire Protection Plan
Replacing a set of tires today is rarely a low-budget undertaking, but we give you the ultimate value and protection when you buy your tires at Auto Select.
For tires priced $100 or less, the plan costs just $9.99 per tire. For tires priced over $100, the plan costs 10% of the purchase price. And for your $40 (or slightly more) investment, you get all these benefits:
FREE Tire Rotations Every 6,000 Miles
FREE Wheel Balancing Every 12,000 Miles
FREE Tire Repairs
FREE Wheel Alignment Check Every 12,000 Miles
20% Off Wheel Alignments
A Pro-Rated Road Hazard Warranty
$3 Off Every Oil Change
Our tire program offers the quality service, peace of mind, and value you deserve. Let Auto Select help your car regain a safe, smooth and comfortable ride.
Ready to schedule? Call or schedule online at Auto Select today.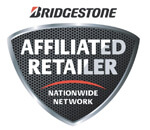 Can't find the Bridgestone tires you need in the above tire selector? Click here, to visit the Bridgestone Tire Catalog. Call your local Auto Select shop with the tires you're requesting and we can order them for you! And remember, when you purchase tires through us, you can also purchase our worry-free Tire Protection Plan.
BRIDGESTONE BUY & TRY 30 DAY GUARANTEE
All Bridgestone brand passenger and light truck tires— except RFT/Run-Flat, Potenza RE-11, winter, and "temporary use" spare tires—sold in sets of 4 or more tires through an authorized retailer are covered by the Buy & Try 30 Day Guarantee. The Driveguard, Potenza RE960AS RFT, and the Turanza EL400 RFT patterns are covered by the Buy & Try 30 Day Guarantee. If a retail customer is not completely satisfied with their eligible Bridgestone-brand tires, the tires can be returned to the location where they were originally purchased within 30 days of purchase for a full refund or exchange. Original proof of purchase is required. The Buy & Try 30 Day Guarantee applies only to full sets of tires (4 or more tires purchased together); return of less than a full set of tires will not be accepted. Bridgestone brand tires applied as original equipment on new vehicles are not covered by the Buy & Try 30 Day Guarantee. Additional exclusions apply, as identified in the section "What This Limited Warranty Does Not Cover."
DRIVEGUARD TIRES ARE ENGINEERED TO BE EXTRA TOUGH SO THEY CAN TAKE A PUNCTURE AND KEEP YOU MOVING FOR UP TO 50 MILES
If you need tires that will go the extra mile (or 50), then look no further than our DriveGuard run-flat tires. Delivering on all of the qualities you expect from a Bridgestone tire and then some, DriveGuard will get you where you need to go even after a puncture tries to slow you down. Sometimes the unexpected can rear its ugly head, but luckily Bridgestone DriveGuard is built specifically for safety-minded drivers looking to overcome the inconvenience and stress a flat tire can bring.
DriveGuard run-flat tires are designed specifically for coupes, sedans, and wagons outfitted with a Tire Pressure Monitoring System (TPMS.) When a Bridgestone DriveGuard tire experiences air loss and the TPMS icon lights up on your dashboard, you know you have up to 50 miles to drive to a safe place. Durable reinforced sidewalls are capable of supporting the weight of your vehicle, even after total air loss. Proprietary cooling fins are designed to resist heat and friction after a puncture, allowing you to continue driving. Combine that with an all-season tread compound that increases tread wear life and traction in a variety of conditions, and you have our revolutionary DriveGuard run-flat tire.
If you want to get the most out of your busy life, Bridgestone DriveGuard tires will let you be your own hero. Check out more DriveGuard technologies in our Performance section, or use our Tire Advisor to see if DriveGuard will fit your vehicle.