Cooper Tires Dealer
Order Cooper Tires Online
Tire Protection Plan
Replacing a set of tires today is rarely a low-budget undertaking, but we give you the ultimate value and protection when you buy your tires at Auto Select.
For tires priced $100 or less, the plan costs just $9.99 per tire. For tires priced over $100, the plan costs 10% of the purchase price. And for your $40 (or slightly more) investment, you get all these benefits:
FREE Tire Rotations Every 6,000 Miles
FREE Wheel Balancing Every 12,000 Miles
FREE Tire Repairs
FREE Wheel Alignment Check Every 12,000 Miles
20% Off Wheel Alignments
A Pro-Rated Road Hazard Warranty
$3 Off Every Oil Change
Our tire program offers the quality service, peace of mind, and value you deserve. Let Auto Select help your car regain a safe, smooth and comfortable ride.
Ready to schedule? Call or schedule online at Auto Select today.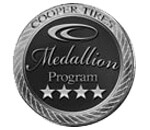 Can't find the Cooper tires you need in the above tire selector? Click here, to visit the Cooper Tires Catalog. Call your local Auto Select shop with the tires you're requesting and we can order them for you! And remember, when you purchase tires through us, you can also purchase our worry-free Tire Protection Plan.