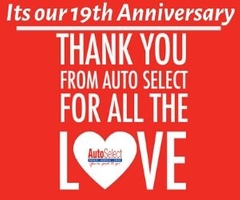 November is a very special month at Auto Select for 2 important reasons:

1. It's our Anniversary! This month we are celebrating our 19th year in business. We are very proud of this and know that our success comes from the great client relationships we have built over the years. We'll continue to work hard at Exceeding Your Expectations every day. From staff members at the 3 locations in Appleton, 1 location in Neenah, 2 locations in Green Bay, 3 locations in Stevens
Point, and 1 location in Weston, we graciously THANK YOU for choosing us.
2. Giving Back! We want to Give Back to the above communities that support us throughout the year. During the month of November, we want to make the Thanksgiving holiday season a little better for those who may need a helping hand. Please help support the Local Food Pantries and we'll help you. Simply Bring in 3 current non-perishable Food Items and take advantage of these special "Thank You" offers: