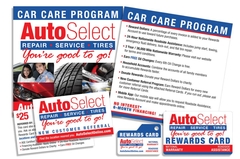 At Auto Select, we believe in giving back. We give back to our community through our Community Support Program, and we give back to every one of our clients with our Car Care Rewards Program! With every purchase at Auto Select, you can earn up to 3% rewards dollars that get added to your Rewards Card Balance to use towards future purchases. We can access your rewards account by phone, name or email too, so if you forget your card, you're still good to go!
Our Program includes a Referral Bonus of $25 per referral. Simply pass out your Referral Cards and earn $25 in Reward Dollars for each referral you provide that comes in for service. Stop in at any location and ask for more personalized referral cards! There is no limit to the amount of $25 Bonuses you can earn!
Another great benefit is the Household Accounts option. This allows you to combine the accounts of all family members within one household to accumulate rewards points faster! Many of our clients have two to six vehicles, and the points and oil changes can really build quickly.
Whether you're a rewards card user or not, we offer the industry's best warranty. A full 3 Year or 36,000 Mile Nationwide Warranty is included with all of our services and parts.
Another great benefit is our Free Oil Change program. Every 6th Oil Change at Auto Select is Free for rewards members, and that can easily be tracked within your rewards card program. Ask your service advisor how close you are to earning your free oil change!
As part of our Rewards Program, we also provide 24 Hour Nationwide Roadside Assistance. This includes jump start, towing, emergency fluid delivery, lock-out and flat tire repair. To receive benefits, call the toll-free Roadside Assistance number on your Auto Select Rewards Card. You will be instructed to provide your 8-digit PIN Number located on the back of your Rewards Card or Key Fob Card. If your vehicle needs to be towed and you are within 25 miles of any of our Auto Select locations, then you must instruct the tow truck operator to bring your vehicle to the nearest Auto Select location. Maximum coverage per occurrence: Local: $100.00 Nationwide: $150.00. Auto Select's Roadside Assistance benefits can be used up to two times per 12 month period.
The best part is membership is FREE! At Auto Select, we want to make sure to keep your vehicle safely running and riding down the road, and provide you with peace of mind anywhere you are in the nation! If you haven't signed up already, then talk to your Auto Select service advisor on your next visit.
To make things even more Amazing, Twice a year, we offer Double Rewards, or 6% back...And August is one of those months! Earn Double Rewards this month at Auto Select.