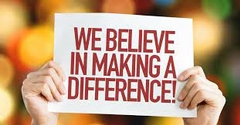 Our Community Support Mission
At Auto Select, we know our success comes from the great client relationships we have built over the past 22 years. We continue to work hard every day to exceed our clients' expectations, and when possible, try to give back to the organizations that impact the communities we live and work in.
One of our core values at Auto Select is to GIVE BACK to all the people that support us throughout the year. We want to make our communities a better place to live by donating money to different area charities, programs, clubs, groups, food pantries, warming houses, churches, schools and events that our clients are involved in, and that provide support and efforts to a wide variety of community causes.
At Auto Select, We also have an option within our rewards program that allows our clients to donate a portion or all of their rewards dollars to a charity or family/friend of their choosing. It's another great way for us to find out which charities mean the most to our clients, and allows them an easy way to donate to community members in need.
Below are just some of the great organizations we have supported this past year. We are honored to help, and pledge to continue these types of donations and support in the coming year.
The Women's Community Of Wausau
Portage County Deputy Sheriff's Association •
Plover Whiting Youth Athletics
SPASH Athletics • Portage County YMCA
Boys & Girls Club of Portage County
United Way of Portage County
Safe Haven Domestic Abuse
Never Forgotten Honor Flight
D.C.Everest Dance Team
K-Tech Charities
The Neighbors Place
myTEAM TRIUMPH
The Salvation Army of Green Bay
Green Bay School District
Ashwaubenon School District
Green Bay Police Department
Ashwaubenon Police Department
Central Wisconsin Storm
DC Everest Athletics
Humane Society of Marathon County
The Salvation Army of Appleton
Blessings in a Backpack
For more information on our community support program, or if you know of an organization that is in need of donations, please visit our Community Support page